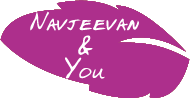 If you care enough about the situation of the underprivileged Indian child, enough
to want to change it, to do something, YOU CAN. Whatever possible, within your
own life and world, is all it takes. You can help us in the following ways:
Donate


Your valuable & blessed support can give life to a child in need. For details click here
Volunteer


Volunteering with Navjeevan takes varied forms - be it helping in administrative work to copy writing;
or volunteering to take up any job for a few months in Navjeevan. Many volunteer their time and
skills while some just send us ideas and suggestions. When you volunteer with Navjeevan, we can
promise that you will surely make a difference - both to a child's life and your own.
Spread the Word
If you like the work that we are doing, you can even act as a goodwill messenger of Navjeevan
by exposing your friends, relatives and other people of your social strata to Navjeevan. You can
even encourage others to visit our website.
Visit Navjeevan
You can even come and visit Navjeevan and build up a relationship with our children. You can
share your world with them, and they will share theirs with you. Come and discover a whole
new world!